Your Guide to Buying Car Roof Boxes
This article discusses everything you need to know and consider before buying a roof box.
If you have never used or purchased a roof box before, it can be quite daunting to go through all the available choices and options. Roof boxes come in a multitude of different shapes and sizes, so which one is right for you? In this guide we'll aim to cover everything you need to know about roof boxes, so you can make an informed choice and enjoy your travels with lots of extra storage space!
Compatibility
The first thing to consider is how the roof box will connect to your vehicle. If you don't own any roof bars yet, you will need to ensure you get the correct set for your vehicle before doing anything else. Once you know what roof bars you will be fitting to the vehicle, or if you already own a set, most roof boxes will be compatible straight away, however it's always best to check the details in any listing to see how the box will fit. Most modern roof boxes come with quick fixing systems that fit around roof bars up to 80mm wide, meaning they should fit almost any set of roof bars on the market. Although it can look good to match, you won't necessarily need to buy the same brand of roof bars and roof box as most will be cross-compatible.


Shape/Size
The shape and size of a roof box is very important, and this is where you may need to know what you are likely to want to carry in the box in future. It can be tempting to just go for the largest box, but very large boxes may not be suitable for small cars. Although, if you are wanting to carry long or bulky items a small box may not be the best choice either. Luckily, there are lots of options and there is sure to be a suitable box for everyone's needs. Narrow boxes are particularly useful if you want to carry some other items on the roof bars too, such as a kayak or cycle carriers. The height of a box may also be something to consider, both in terms of carrying bulky items but also with regards to aerodynamics and fuel economy.


Volume/Load Capacity
Roof boxes will have a volume figure displayed, with most somewhere between 350-450 litres but some going up beyond 600 litres! However, it can be hard to imagine the size of the box based on the volume figure alone, so it's best to check the exact measurements too. Boxes will also have a load capacity listed, usually between 50-100kg. It can be tempting to cram as much into the box as possible, but the car itself will have a load limit and it's vitally important to not overload the roof. Remember to count the weight of the roof box as part of the overall load too! When loading the box, it's best to keep an even weight distribution and heavier objects at the bottom and middle of the box. Straps can be used to keep items in place and secure during the journey.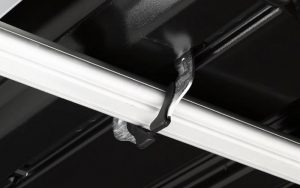 Most roof boxes will have large clamps (up to 80mm) but it's worth double-checking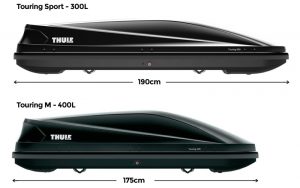 Roof boxes come in all sorts of shapes and sizes – it's not always best to go for the largest possible




Load capacities can vary and it'll be important to load the box evenly and securely


Features
Roof boxes will have all sorts of features listed to make them stand out from the crowd, but the most important is probably the way the lid opens. Basic boxes will likely have a single-side opening, or perhaps even a rear opening. Whilst this works as a way of loading and unloading items into the box, a rear opening may not be suitable for a long vehicle and is best suited to small hatchbacks. A dual-side opening box offers the best solution and is especially useful for travelling abroad, as you can access the contents from either side of the car. Something else to consider is the way the lid is locked and kept secure, with the best boxes having a central locking system.


Colour/Design
It's not a vital thing but the colour or design of a box can be something to think about. Most boxes are gloss black and that will suit almost any car on the road…but for those wanting something a bit different, there are alternative options such as grey, silver or white. There are even bright blue or pink options for those who want to stand out!


Storage
The last thing to consider before buying a roof box is how it will be stored when it's not on the vehicle. Although modern roof boxes are designed with aerodynamics in mind, they will all negatively impact the fuel economy so it's best to remove the box when it's not in use. Most boxes will take up quite a bit of room and there are some storage solutions available, such as racks and pulley systems. If those solutions aren't possible, a roof box lid cover can be a simple way to protect the box from any dirt or damage when it's not on the car.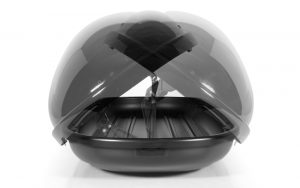 Dual-side opening boxes are useful, especially if travelling abroad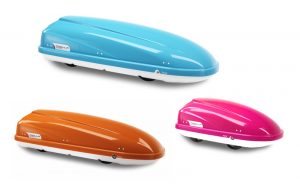 Most roof boxes are black or silver, but there are some colourful options too!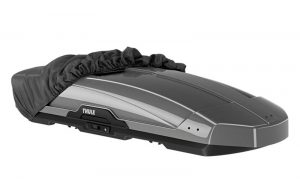 Storing a box can be tricky due to the size but a lid cover can protect it away from the car


Once you've purchased your roof box and fitted it to the car, it'll be important to remember the added height on top of the vehicle, as well as the change in the centre of gravity. Whilst you should still be able to go at motorway speeds in normal conditions, heavy winds are something to watch out for and sudden acceleration or braking should be avoided as much as possible.


We have a
large range of roof boxes available at DriveDen
, with Thule and Modula being our preferred suppliers. We include as much information as possible in each listing, including the volume, dimensions and any specific features, so you can make the best choice for your requirements. Whatever box you go for, it will provide years of reliable service.