Roof Bar Buying Guide
Buying
car roof bars
is not always straight forward, so we have put this
roof bar buying guide
together to help you through the buying process.
Before ordering you will need to see which type of roof bar fixing your vehicle has...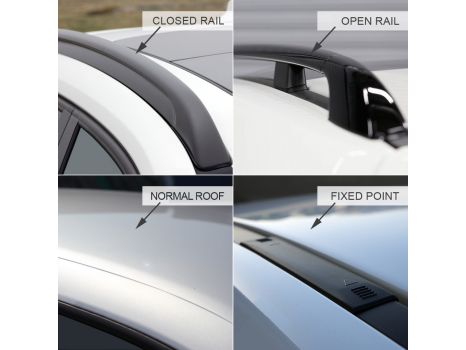 Open rail
- Your vehicle has side rails which run from the front to rear of the roof, and will have a gap between the roof and the rail, usually large enough to fit your fingers through.
Closed or flush rail
- Similar to open rails, but without the gap. The rail will be touching the car roof along its entire length.
Fixed point
- Your vehicle has no pre-fitted side rails, but has removable or sliding tabs, which reveal a screw fixing hole. The fixing points will be on the roof, front and back, and on both sides of the car.
Normal roof
- Your vehicle has no rails of fixing points on the roof. Bars for "normal roof" cars fit to the door openings. Sometimes cars have a location hole, which can be seen when the door is open. Some 3 door models allow for the rear bars to fit to the edge of the rear window, but some will require both bars to clamp on the front door opening, meaning the gap between bars may be quite small. If this is the case will be indicate the distance.
What will the bars be used to carry?
This is an important question. As modern roof bars are getting wider to cut noise and air drag, which can cause issues with accessories being fitted. If you have existing car bike racks, car roof boxes or other accessories, please check the width of the fittings for these, as some may be too narrow for the bars.
Bars range from 32mm up to 70mm so this is an important consideration when ordering. Some accessories will use T track fittings, where accessory fittings slide into a slot on the top of the bar. This allows quick fitting and also allows you to use the full width of the roof bar. Our Farad Aluminium and Thule WingBars feature T track slots.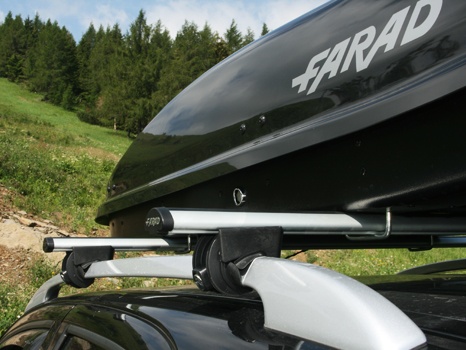 Should I check weight limits?
Roof bars are rated and tested for a safe load weight, usually between 60kg and 100kg. This is the weight that can be safely carried on your roof bars. You will also need to check your vehicle hand book as this will tell you the safe weight that the vehicles roof itself can carry. You may buy 100kg bars, but your car can only carry 75kg. You will need to adhere to the lower weight.
What's the difference between Steel and Aluminium roof bars?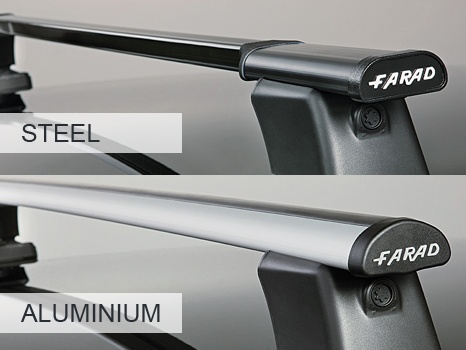 This decision will be based on your budget, load weight needed and also style. Steel bars will have a lower cost so are ideal if you only plan on using them occasionally, however they will be heavier and usually square in shape, meaning they will not be as quiet as aluminium bars.
Aluminium bars will be lighter and generally stronger with higher weight limits. They are also aerodynamically shaped and more stylish looking. Aluminium bars often include T track slots, giving more fitting options. Please be aware aluminium bars are wider then steel, so care needs to be taking when checking existing or future accessory fittings will be suitable for the width. We detail bar widths and accessory fitting widths in all our product descriptions.
Are roof bars easy to fit?
All our roof bars come with fitting instructions, and we also have some fitting advice here. Bars usually take 15-30 minutes to fit on the first time, then once the distances are set up, about 5-10 minutes each time they are re-fitted on the car. We would recommend removing bars when they will not be used for some time. This will reduce fuel consumption and wind noise.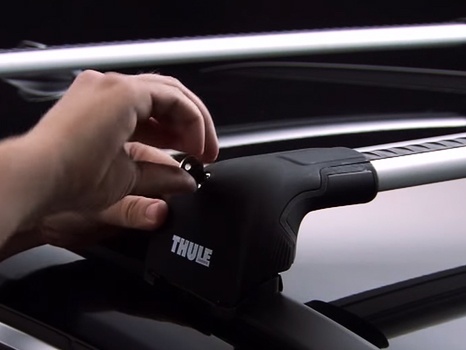 Can I lock the roof bars to my vehicle?
Yes, all our bars have a method of locking the roof bars to the car roof. This is normally in the form of a plastic cover which is locked over the fitting bolts. Each brand and model is different and will be detailed on the product page. Locks on roof bars are to act as a deterrent, and are never 100% secure. They are designed to put off the opportunist.
Which brand of roof bars should I choose?
We offer a few brands, giving plenty of choice, whilst ensuring all our products are safety tested, approved and easy to fit.
Farad
and
Modula
branded bars are both manufactured in Italy and imported directly by us, ensuring the best possible pricing. These two brands offer great value, great quality and excellent fit.
We are also an official
Thule Sweden
dealer, so can offer great prices on
Thule bars and accessories
. These are regarded as the industry leaders, and Thule also work with most car manufacturers on their original equipment roof bars.
Tips on selecting the correct roof bars...
Now you have read this buying guide, you are ready to browse our
roof bars
and find your ideal set. Please select your vehicle make, model and year. You will then be able to filter down on the left had side to your vehicle bodystyle and other filters such as steel, aluminium, open rail type.